Deli, Indonesia
BRIEF HISTORY: A 1,820 km² state in East Sumatra (Sumatera Timur) founded in 1632. A Rajadom from 1632 until 1814, the state became a sultanate in 1814 when acquiring independence from Siak. The
sovereign status was altered by independent Indonesia in 1949 and the installation of the Sultan has been recently authorized by the government of the Republic of Indonesia. The palace was Tanjung Mulija in
Labuan Deli until 1877 and is Istana Maimun in Medan since 1888. The sultanate was revived in 2001.
SOURCE: Gerry van Klinken, Return of the Sultans 2004
THANKS TO: Christopher J. Buyers (21/7/2005)
John Duncan McMeekin (26/11/1999)
Donald P. Tick gelar Raja Muda Kuno, Pusat Dokumentasi Kerajaan di Indonesia "Pusaka", Vlaardingen, The Netherlands pusaka.tick@tiscali.nl (2/10/2002, 10/11/2002, 2/12/2002, 24/12/2002, 21/7/2005,
7/8/2005, 2/3/2011)
UPDATED: 17/3/2013
GLOSSARY:
Andi: Bugi Makassar nobility title
gelar: titled
Istana: Palace
Paduka: Excellent
Panglima: Commander
Perkasa: brave
Puang: nobility title in the southwest Celebes
YAM (Yang Amat Mulia): the style of the senior royals in Deli
QUALIFICATIONS AND TITLES:
Dynasty Head: HH The Sultan of Deli (Istana Maimun, Medan, Sumatera Timur, Indonesia)
DYNASTY HEAD: HH Tengku Mahmud Aria Lamantjiji Perkasa Alam, installed as Sultan Deli XIV 22/7/2005, under the Regency of YAM Tengku Hamdy Osman Delikhan ibni Sultan Osman al Sani
Perkasa, Raja Muda (Crown Pce), °1997
CROWN PRINCE: YAM Tengku Hamdy Osman Delikhan ibni Sultan Osman al Sani Perkasa, Raja Muda
DYNASTY MEMBERS:
Children of HH Sultan Azmy Perkassa Alam Syah:
1 (by Teungku Zainab Sulhari) HH Tuanku Otteman Mahmud Maamun Padrap Perkasa Alam III Syah, Sultan of Deli (see below, Predecessors)

2 Yaya gelar Raja Ampuan Indra

Children of HH Sultan Osman al Sani Perkasa Alam Shah II:
1 HH Azmy Perkassa Alam Syah, Sultan of Deli 5/6/1967-.... (see below, Predecessors)

2 YAM Tengku Hamdy Osman Delikhan ibni Sultan Osman al Sani Perkasa Alam Shah II, Raja Muda (see above, Crown Prince)
3 YAM Tengku Laksamana Tengku Zickry Osman Delikhan ibni Sultan Osman al Sani Perkasa Alam Shah II
4 YAM Tengku Maheran binti Sultan Osman al Sani Perkasa Alam Shah II
5 YAM Tengku Zaira binti Sultan Osman al Sani Perkasa Alam Shah II
Children of HH Sultan Amaluddin Sani Perkasa Alam Shah:
1 YAM Tengku Kamiluddin ibni Sultan Amaluddin Sani Perkasa Alam II

Sons and descendants of Sultan Osman Perkasa Alam Shah I:
1 Mahmud Perkasa Alam II, Sultan of Deli 10/10/1858-25/10/1873 (see below, Predecessors)
2 Raja Muda Tengku Sulaiman, +1895. Father of:
2.1 Tengku Alautiah, installed Tengku Mahsuri Alautiah at Tanjungpura 23/5/1894, +31/10/1897, X c1892 Tungku Abdul Aziz Abdul Jalil Rahmat (Rahmad) Syah, Sultan of Langkat 1892-1/7/1927, installed at
Tanjungpura 23/5/1894, born Tengku Muntil, recognized by the Dutch 23/5/1894, °9/5/1878, +1/7/1927 (X 2 c1/1898 Tunku Aishah, daughter of Zainal Rashid al Mukarram Shah I, 22nd Sultan of Kedah, 3
12/1919 Tengku Zaharah, daughter of HH Sir Alaeddin Sulaiman Shah, 5th Sultan of Selangor by Tunku Maharum binti Tunku Ziauddin of Kedah)
3 (by Raja Siti Asmah binti Sultan Mohammed Ali Shah of Asahan) Tengku Pangeran Klana Tengku Ismail (Sulong Laut) of Bedagai. Ancestor of the dynasty of Bedagai

To be related:
1 Tengku Muhammad Djoefri al-Rasyad, °c1949
2 Tengku Hasnan, Juru Bicara Keluarga Kesultanan (Speaker of the Family Assn of the Sultanate)
3 Tengku Harmein
4 Tengku Reinald
PREDECESSORS:
Raja Muhammad Dalek Sri Paduka Tuanku Panglima Gocoh Pahlawan 1632-1669
Tuanku Panglima Parunggit 1669-1698
Tuanku Panglima Padrap 1698-1728
Tuanku Panglima Pasutan 1728-1761
Tuanku Panglima Gandar Wahid 1761-1805
Raja then Sultan (18/3/1814) Amaluddin Panglima Mangendar Alam I Perkasa Shah 1805-1850, +1850. Father of:
Osman Perkasa Alam Shah I, Sultan of Deli 1850-10/10/1858, °1809, +10/10/1858, X (among other wives) 1 1852 Raja Siti Asmah binti Sultan Mohammed Ali Shah , daughter of Mohammed Ali Shah,
Sultan of Asahan. Father of:
Mahmud al Rasyid Perkasa Alam II, Sultan of Deli 10/10/1858-25/10/1873, °1828, +25/10/1873, X (div) Tengku Zaleha binti Tengku Zainal Abidin (of Deli). Father of:
HH Ma'moen al Rasyid Perkasa Alam Syah, 9th Sultan of Deli 25/10/1873-9/9/1924, installed at Labuan Deli 18/7/1874, built the Maimoon Palace (finished 18/5/1891), the Great Mosque of Al Mashun,
Medan 1907 and the Mahkamah Paragatan office, +1924 (bur Great Mosque of Al Mashun, Medan),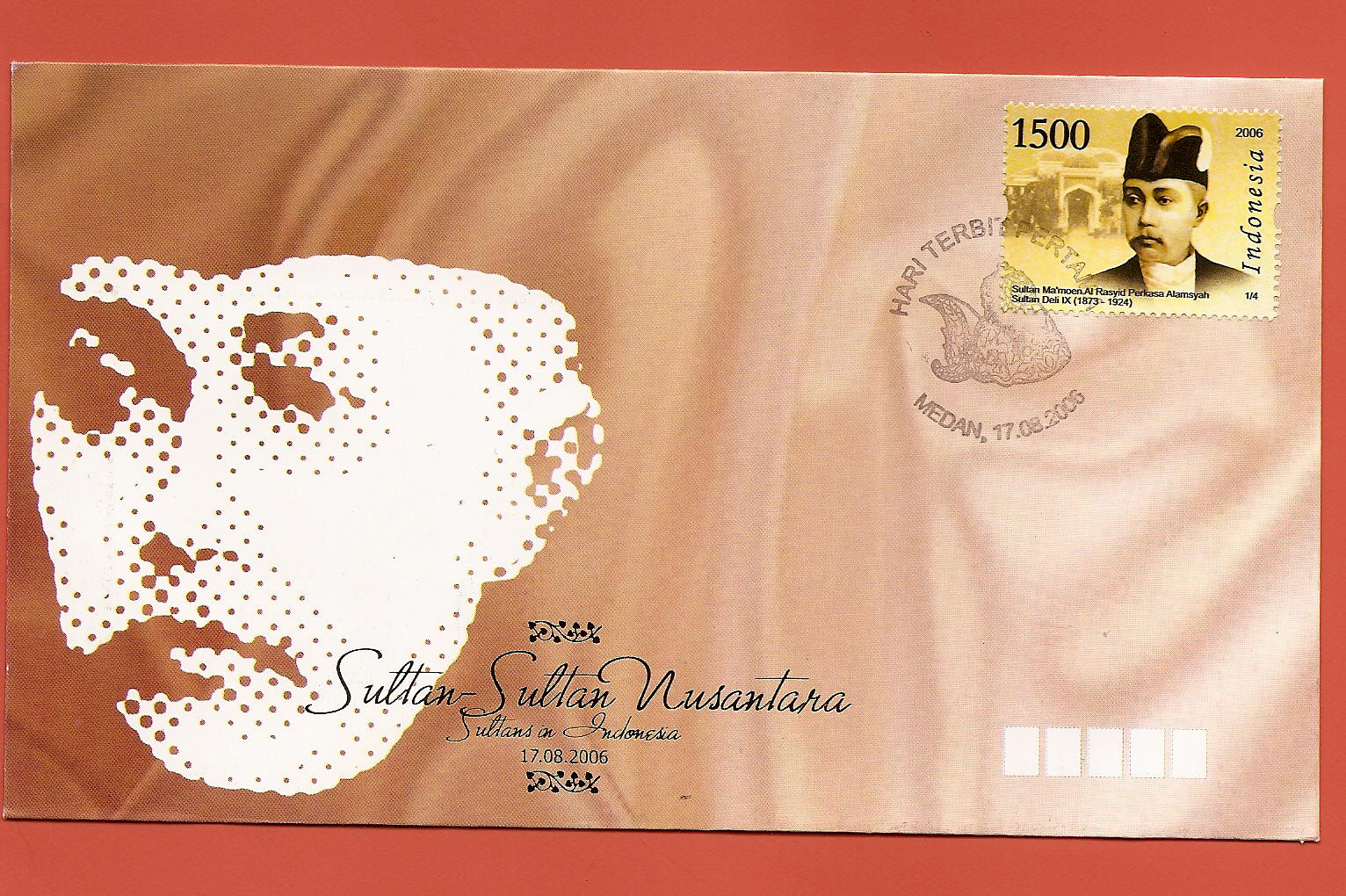 X Che Ibu Baginda, +1945. Father of:
HH Muhammad Abdul Kadir Aidid Amaluddin (Amaloedin) Sani Perkasa Alam Sjah II, Sultan of Deli 9/9/1924-4/10/1945, installed at Medan 9/2/1925, °7/3/1877, +4/10/1945, X 1 17/11/1899 Raja Maheran
binti Sultan Abdullah Mohammad Shah II, +16/4/1901, daughter of Abdullah Mohammad Shah II, 26th Sultan of Perak, 2 25/10/1906 Raja Khalidjah binti Sultan Abdullah Mohammad Shah II of Perak, installed
Tengku Permaisuri Khalidjah at Medan 10/2/1925, °c1888, +10/11/1960, , daughter of Abdullah Mohammad Shah II, 26th Sultan of Perak. Father (by Raja Maheran) of:
HH Osman al Sani Perkasa Alam Shah II, Sultan of Deli 4/10/1945-5/6/1967, +5/6/1967, installed at Medan 7/10/1945, °20/8/1900, +5/6/1967, X 1 7/5/1925 Raja Amnah binti Raja di Hilir Raja Chulan, titled
Tenku Puan Besar Indra Raja Amnah, °1900, +26/1/1934, daughter of Raja di Hilir Raja Chulan (of Perak), 2 1935 Mariam binti Abdullah, styled Che Mariam, °1922, 3 11/4/1935 Raja Norshidah, installed
Tengku Ampuan Norhidah at Medan 7/10/1945, °1914, +13/9/1978, daughter of Raja Kechil Sulong Raja Harun al Rashid (of Perak). Father (by Mariam binti Abdullah) of:
HH Azmy Perkassa Alam Syah, Sultan of Deli 5/6/1967-1998, installed at Medan 7/6/1967, +(heart disease and diabetes), °24/4/1936, +1998, X 1 19/7/1959 Teungku Zainab Sulhari binti Tuanku Mahmud of
Aceh, °13/5/1938, +20/5/1988, 2 31/1/1989 Tengku Khairatun Azhar binti Tengku Mohammed Nur, daughter of Tengku Mohammed Nur (of Langkat), °6/1/1938. Father (by Teungku Zainab Sulhari) of:
HH Tuanku Otteman Mahmud Maamun Padrap Perkasa Alam III, Sultan of Deli XIII 4/5/1998-21/7/2005, Lt Colonel in the Indonesian Army, °30/8/1966, +(plane crash) Lhokseumawe 21/7/2005 (bur
23/7/2005), X 23/3/1999? Puang Hajjah Ir Siska Marabintang ibni Haji Andi Zainal Basri Palaguna gelar Raja Ampuan Indra, daughter of Haji Andi Zainal Basri Palaguna, Gov of South Sulawesi (Sulawesi
Selatan). Father of:
HH Tengku Mahmud Aria Lamantjiji Perkasa Alam, installed as Sultan Deli XIV 22/7/2005 (see above, Dynasty Head)